Photo courtesy of Fox Searchlight Pictures
A topic I've discussed a fair amount with some of my friends is the odd and sometimes up-in-the-air first years after college. Back in high school my best friend and I would literally see every movie in theatres (okay- more like every chick flick, romantic comedy, and failed comedy). When I saw
Post Grad
back in 2009 I had two main conclusions: 1) This movie totally sucks and is totally not funny. 2) That won't be me in any way, shape or form. And yet here I am, here in the present in 2014 and I have to admit, me and many of my friends are a bit like the poorly-written titular character Ryden Malby played by Alexis Bledel (I never thought I'd make this comparison!)
After graduating from college, my life has definitely changed. Though I am still in classes via a post-baccalaureate program, my schedule is entirely different. I left the environment of a big, top university with all of my friends footsteps away to a commuter school with the majority of my friends no where in sight or in the state for that matter. I am 100% on board and excited for what my future holds: applying to dental schools soon and seeing where that takes me is thrilling and exactly what I want to do with my life. But this in between phase is a little bittersweet.
Aside from superfluous things I took for granted like just grabbing dinner somewhere, hosting semi-pretentious wine and cheese parties in my semi-shitty/semi-chic studio apartment, and going out with friends, I truly miss the company and in-person support at times. I now can only catch up with them via texting, Skyping, Facetiming or phoning. And that sucks. It sucks even more that that is more than likely just the reality of life- this is the future! There will rarely, if ever, be a time where all of my friends are in one place at one time. And that's both fantastic and heart-rending. On one hand, it's great to support one another with personal goals, whether that be working for a television network in Times Square or a job with a top company in Los Angeles or a one-year opportunity with Americorps on the East Coast. On the other hand, I wish I realized this time would come sooner than later and that I could have had the chance to truly cherish times with friends in the past more.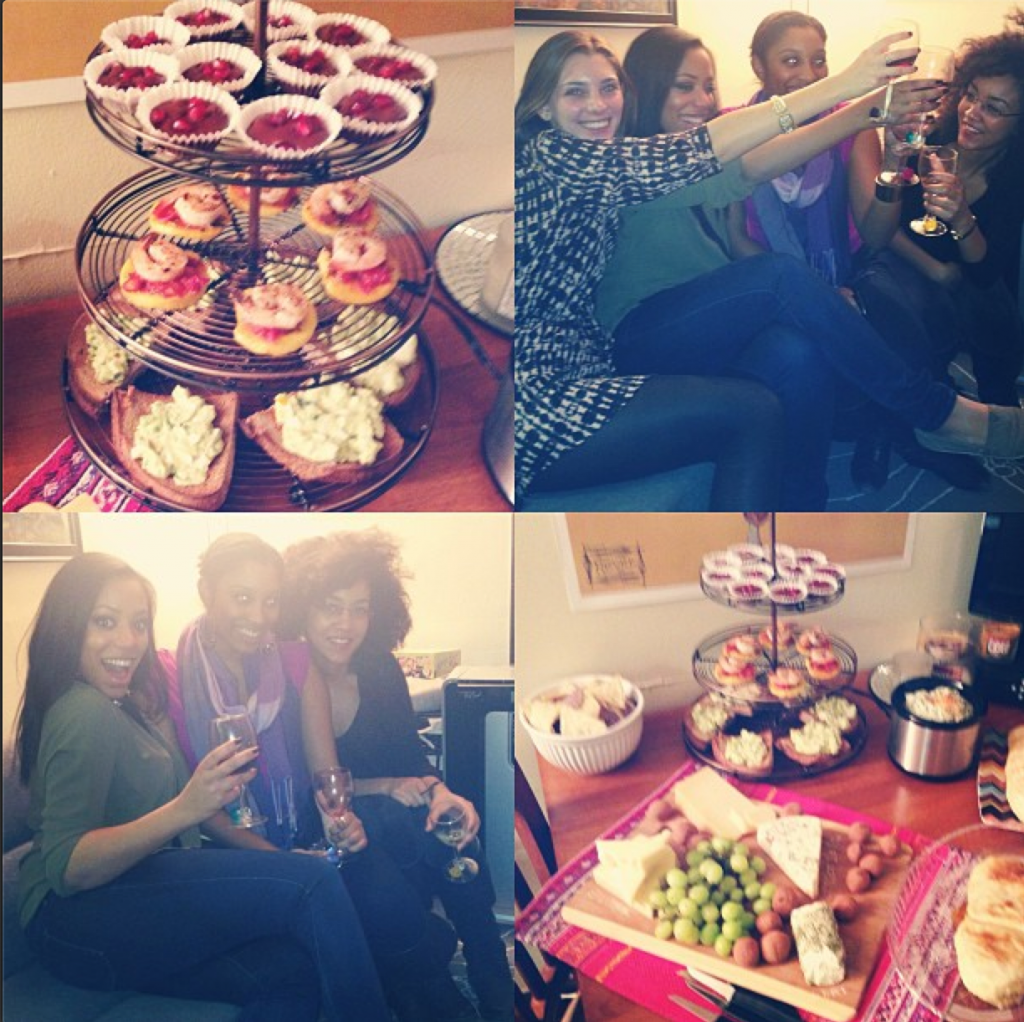 A semi-pretentious party hosted by yours truly
I have to admit, a part of me is also envious. Why can't it be me who is apartment-shopping in southern California or moving to Seattle or Chicago? Why am I not spending more time abroad like I've always wanted to do? But the truth is sometimes life has to go at your own speed. I know that for me, the program I'm doing is best for my long-term goals and that it requires me to stay in my hometown for now.
One surprising bonus of being sort of forced to move back home for a year is that I think I am gaining an appreciation for my surroundings more than ever before. It's definitely easy to yearn for travel and starting a new life somewhere different, but being near my family has its perks and I'm lucky to have that option. Soon enough, I'll be able to experience the excitement and the unknown curve-balls life throws at me when it comes time to get my next degree. For now my time is to be spent here, where I grew up, where I didn't want to go to college but ended up loving it, and where I know I will always be able to call home, though sometimes begrudgingly.